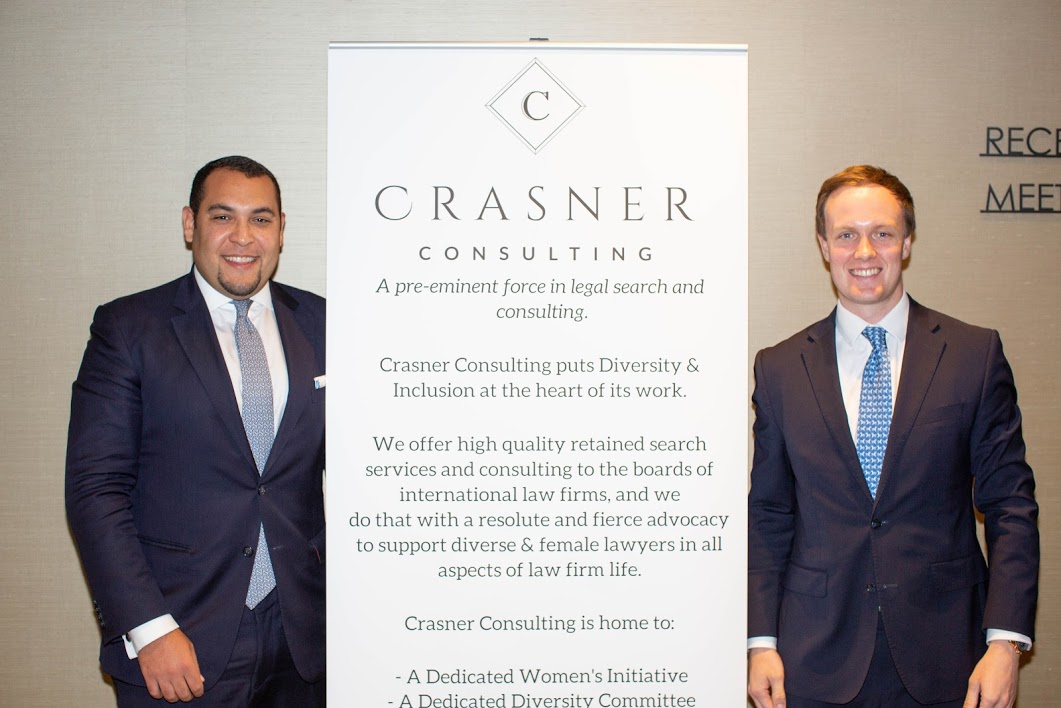 I had the great honour of attending a powerful conference last week on Gender Equality in the legal industry. I have attended many events but this one was nothing less than exceptional!

About me:

I am a "Male Champion", which is a corny (probably American) phrase for a man that is interested in gender equality and the mission of women.
I am interested in the subject because I believe in Diversity, but also because I am surrounded by mentors and people who have allowed me to explore this idea and speak up about something, I am passionate about.
The Founding Partner of my Firm, Nick Crasner, is a mentor and friend who I have watched advocate for Gender Equality and Diversity in law firms. His tireless work supporting causes, mentoring people (lawyers, other Male champions and lots of women) inspires me and I'm pleased to do my small bit for Women in Law (which is the industry that I focus on).
My firm, Crasner Consulting, is a preeminent legal search and consulting firm. In short, we do retained searches where we recruit stellar groups of lawyers for law firms. We also give advice to law firms and with both aspects of our practice there are two common themes:
1) we are engaged by Boards, Chairs and Executive Committees; and
2) Diversity & Inclusion is a theme across all of our work.
As a result of the above, our collective interest in the subject and the incredible guestlist and speakers that the wonderful team at The Law Society pulled together, my Firm decided to sponsor the event.
So what did I learn:
Bias is bias
It is extremely difficult to steer away from bias unless we have the key decision makers in a law firm bought into initiatives for equality. Humans have a lot of preconceived ideas and beliefs and consistently we let people get away with said beliefs. All lawyers (and anyone in other professions), regardless of seniority need to be strong enough to call people out who portray bias in the workplace – regardless of their rainmaker status or the size of their business. Kieran Pender, Senior Legal Advisor at the International Bar Association plainly put his thoughts out on bias stating 'just don't be a dickhead, it is as simple as that'.
These sentiments made me feel lucky to be at a firm that proactively steers away from people who don't share this view and who proactively seek out clients that have this as a theme to their moral code.
Male Champions play a key role
It is right to gather hundreds of women at a diversity event, but we need more "Male Champions" to help achieve Equality. It is as simple as that. This event reinforced that Male Champions, regardless of seniority have a role to play to help get the message out about gender equality. A strong panel including Kieran Pender, Jon Hayes, Raj Panasar and Dowshan Humzah, debated the role of "gatekeepers" not turning up to these events; the fact that, as males, we need to be more conscious of our phrasing during discussions with female counterparts; and we need to take responsibility in our generation and not just assume the next generation will be different. Dowshan also reiterated that more females need sponsors. Not training or coaching, but sponsors to help them on their journey.
Of course, I hear this notion frequently and I make choices every day that help women in law!
Clients of law firms play as important a role on diversity & inclusion
Clients need to demand more from law firms on their diversity & inclusion efforts. Clients should demand more cold, hard facts regarding diversity. In the US, some clients demand that each invoice has a dialogue about diversity and even ask if women or diverse attorneys are getting credit for work. I love this!
Farmida Bi, Chair of Norton Rose Fulbright in EMEA spoke about. Without the drive on both fronts from law firms and clients, it will be impossible to ever get to fair equality of opportunities in the law. The entire event had ideas of proposed strategies to enhance the dialogue and the action between clients and law firms.
Flexible working
The flexible working concept was a key part in the Symposium, in many of the discussions. Personally, this is certainly something I haven't embraced enough. That said, it became apparent that to enforce true gender equality, it is nearly impossible if you don't have a flexible working initiative. For example, the incredibly inspiring Carolyn Pepper, a Partner at Reed Smith, was vocal about her method of working and how she's made flexible working work for her career and how it has allowed her to thrive!
Firms need to embrace that mothers (and fathers) require flexibility in such busy working and social lives. It is therefore crucial to have the right mindset on flexible working if you are to strike gender equality.
At my firm, we are performance driven and it doesn't matter where you work; the office, the beach or your bed. Law firms need to apply a similar initiative and break traditions of lawyers spending 12+ hours at their desks.
We need to reevaluate what we evaluate in law firms
Law firms have become obsessed with evaluating profitability, revenue per lawyer, leverage and numerous other statistics. Yes, these are necessary and understandably so. That said, law firms need to change this age-old tradition and develop into social institutions of great values, equal representation and fair decision making.
Other jurisdictions are faring worse than ours. We need global change.
Whilst the UK has made some progression on its path to more gender equality, other jurisdictions are faring worse than ours. For example, in Asia, especially emerging market economies, generational issues have meant that a) there aren't enough lawyers and b) many of the lawyers qualifying is still heavily weighted towards men. In Spain, only 16% of Partners in law firms are women and 40% of women who get into practice, leave the law. In the US there is a 53% pay gap on average between men and women across the largest 350 law firms in the US. These figures are appalling. We need to take more action, now.
Conclusion:

I learnt a huge amount and had lots of my ideas reinforced by a great audience.
A special thanks to Christina Blacklaws from The Law Society for all of her incredible work on this subject and for giving so many of us a platform to move this issue forward.
Another thanks to my colleagues Katie Faulds and Nick Crasner for all of the amazing work that they do in our Diveristy Committee and Womens Initiatives. We are a firm taking real action on crucial subjects in the law.
About the author:

Our Associates is a Male Champion.
In his day job, he is an Associate who Co-Heads Crasner Consulting's Paris and Asia practices.
Mr. Robertson routinely works with Chairmen and Chairwomen on some of the largest and most complicated retained search projects and management consulting assignments.